ELEOS™ LIMB SALVAGE SOLUTIONS
Novel, pioneering designs that help to address the clinical challenges of soft tissue attachment and aseptic loosening
ELEOS™ LIMB SALVAGE SYSTEM FEATURING BioGrip® TECHNOLOGY
One of the most contemporary end-to-end limb reconstruction solutions. The ELEOS™ Limb Salvage System helps to address key clinical challenges. The system includes numerous streamlined solutions that reduce operative complexity. ELEOS™ implants are designed to help address the clinical challenges of soft tissue attachment and aseptic loosening with our 3D printed BioGrip® Technology and patented suture hole designs.
ADDRESSING CLINICAL CHALLENGES
Implant loosening and soft tissue failures are two of the most common reasons why limb salvage prostheses fail1. That is where BioGrip® Technology comes in:
3D-printed surface engineered with pore characteristics to support both bone and soft tissue ingrowth2,3,4,5
Nano HA surface treatment throughout porous structure enhances osseointegration6
Novel randomized structure helps to maximize 3D layering and porosity that supports bone and soft tissue ingrowth
SUPPORTING BONE INGROWTH WHERE IMPLANT
LOOSENING IS A CHALLENGE
MODULAR BioGrip® COLLARS WITH NANO HA
3D-printed collars with nano HA treatment and pore structure designed to support bone ingrowth2,3
Novel nano HA treatment
3D-printed pore structure to support bone ingrowth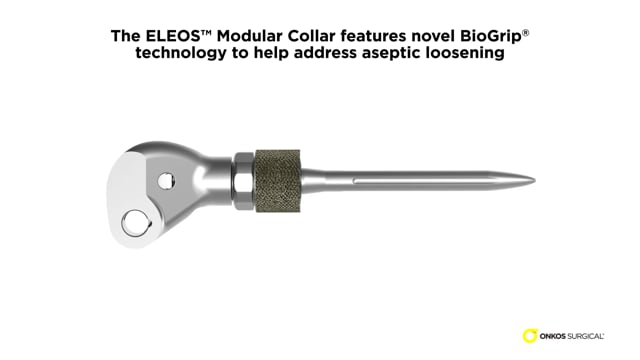 SUPPORTING SOFT TISSUE INGROWTH AND ATTACHMENT WHERE SOFT TISSUE FAILURES ARE COMMON
ELEOS™ PROXIMAL TIBIAL REPLACEMENT WITH BioGrip®
3D-printed proximal tibial implant with pore structure and suture hole pattern to support soft tissue ingrowth
Novel pore structure to support soft tissue ingrowth2,4,5
Anatomically aligned suture holes in three-directional planes
ELEOS™ PROXIMAL FEMORAL REPLACEMENT
Anatomic design with suture holes to allow for the fixation of adjacent soft tissues
Anatomically aligned suture holes
Plasma sprayed surface
Anatomic design with 15° of built in anteversion and 135° neck angle
REDUCING THE COMPLEXITY OF CHALLENGING PROCEDURES
ELEOS™ HINGE AND DISTAL FEMORAL REPLACEMENT
Reducing the complexity of multi-step constructs
Simplified 3-piece hinge design with pre-assembled poly components
Distal Femoral Replacement
ELEOS™ SEGMENTAL STEM PORTFOLIO
Reducing the complexity of construct preparation
Bullet tip geometry
Proportionally scaled collars
Canal filling stems
3 in 1 reaming, planing and trialing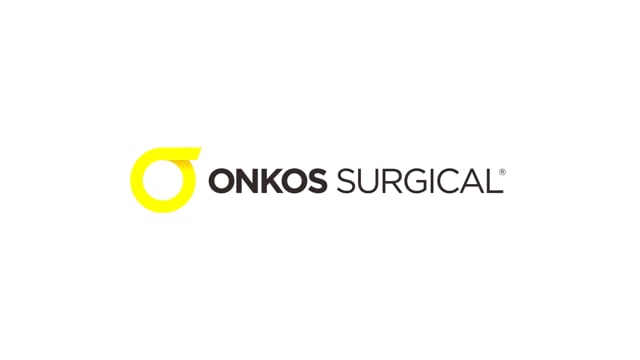 References
1.Henderson et al. Failure Mode Classification for Tumor Endoprosthesis: Retrospective Review of Five Institutions and a Literature Review. J Bone Joint Surg Am 2011;93:418-429. doi:10.2106/JBJS.J.00834. 2. Data on File, Onkos, 2020.  3. Taniguchi, et al. Effect of pore size on bone in-growth into porous titanium implants fabricated by additive manufacturing: An in vivo experiment. Mater Sci Eng C Mater Biol Appl. Vol. 59:690-701.February 2016. 4. Dickey, et al. Pore Size and Morphology Modulate Strength of Soft Tissue In-Growth into Porous Titanium Implants. Poster No. 1865 • 54th Annual Meeting of the Orthopaedic Research Society. 5. Dickey, et al. Pore Size Modulates Strength of Soft-Tissue In-Growth and Growth Factor Expression in Novel Porous Titanium Implants. Poster No.2213 • 55th Annual Meeting of the Orthopaedic Research Society 6. Promimic. Increased Fixation and Integration of Titanium – In vivo studies in a rabbit tibia model. Data on File. https://www.promimic.com/wp-content/uploads/2017/02/Increased-Fixation-and-Integration.pdf.